Description
Recycled 18 carat yellow gold wedding ring.
Each piece of Loyal.e Paris jewelry is unique.
It has a unique serial number and is accompanied by a blockchain certificate of authenticity. Loyal.e cultivates singularity, yours as well as their creations: each piece is unique, handcrafted to order in their Parisian workshop.
Whether it comes from a mine or a laboratory, a diamond is a diamond.
But between lab grown and mined diamonds, there is one notable difference: the ecological and ethical impact.
Lab grown diamond not only avoids mining conditions, but it requires about seven times less water and produces twenty times less kg of CO2 than mine diamond..
The round geometry embraces the diamond to envelop it in warmth and sensuality with the Amour Perpétuel collection.
Gold encircles your finger and intertwines in an infinite unfolding of waves, mirroring your life together.
A life in perpetual motion, transcended by an unchanging, radiant and unique love.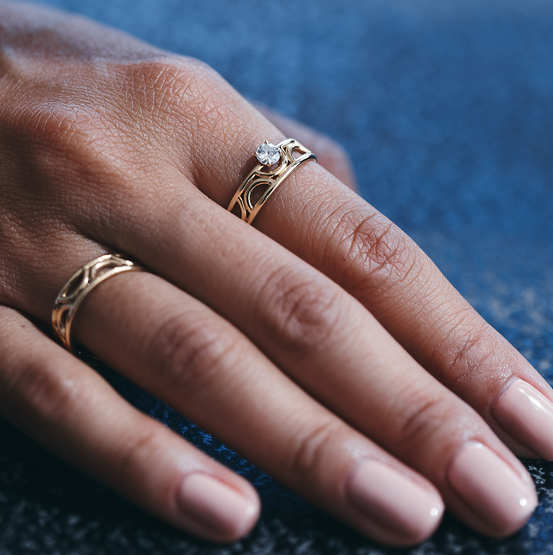 Care
Loyal.e creations are made from precious stones and metals. Here are a few tips to preserve their brilliance and sublime.
We recommend that you avoid wearing your jewelry during manual or sporting activities in order to preserve it from any possible shock.
When you do not wear your jewel, we advise you to store it in its case for a better protection.
To clean a diamond or pavement, we recommend using a soft bristle brush, soap and hot water. The stone can then be rinsed and gently wiped with a soft cloth to awaken its luster.
Made in France
Composition:
100% 18-carat gold

Colors : Or jaune
Ref: RAP2Y000N
Loyal.e Paris
The French fine jewelry Maison Loyal.e Paris unites beauty and ethics, in the belief that contemporary glamour should never be a compromise.
Each statement piece reflects the Maison's commitments: women empowerment, diversity and love in all its forms, self-expression beyond conventions.

Each creation is handcrafted in Paris, uniting two precious materials: recycled 18k RJC-CoC certified gold and climate-neutral lab grown diamonds of the highest quality. By choosing these materials, Loyal.e stands against the working conditions and environmental impact of gold and diamond mining.

Whether you are extravagant, minimalist, or casual; whether you wear your jewelry as a centrepiece or a subtle wink, our creations reveal your elegance and glamour.
This product meets the following ECO X CEPTION criteria:
Produced in France
Delivery and return
Partner product: this product is shipped directly by our partner. The only delivery method available is home delivery. It is not available in our shop and cannot be selected for a fitting.

The conditions for returns and guarantees are the same as for other products on the site. You can return the product within 30 days of receiving your order. In Metropolitan France, the return is free of charge, you can download a prepaid Colissimo return form on your customer account. After completing the online return request on your customer account, you can also bring your return to our shop at 12 rue Philippe de Girard, Paris 10e.

You have chosen a product made to order. If the product is available in our partner's stock, the product will be shipped within 7 days. If the product needs to be manufactured, the delivery will take up to 3 weeks. Our customer service will contact you shortly to confirm the estimated delivery date.
This product is made to order in the designer workshop. Some additional manufacturing time may apply. We will ship the product as soon as it is made available by the designer.

Customers reviews about this product